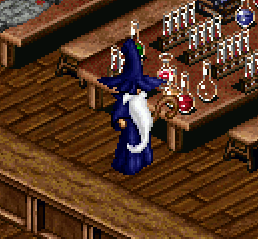 Cian is the Mileth Alchemist. His laboratory is located in the Northeastern corner of Mileth ((Mileth Village 26,16)), adjacent to Dar's hut. Though he only sells Coral Earrings, he buys a wide variety of items commonly found in the Mileth Crypt for fair values.
Cian also sells a few different potions that can be useful for low insight Aislings.
Orange Potion -- 300 coins
Purple Potion -- 2,500 coins
Blue Potion -- 600 coins
Blue Powder
Edit
Wizards can craft Blue Powder with Cian if you have the appropriate ingredients and labor.
Sells and Buys
Edit
Sells
Buys

Coral Earrings -- 8,000 coins

Coral Earrings -- 4,000 coins
Coral Fragment -- 375 coins
Uncut Coral -- 1,250 coins
Flawed Coral -- 2,500 coins
Finished Coral -- 5,000 coins
Mold -- 50 coins
Mantis Eye -- 1,500 coins
Rotten Vegetable -- 250 coins
Rotten Tomato -- 100 coins
Rotten Cherry -- 250 coins
Rotten Grapes -- 50 coins
Moldy Baguette -- 50 coins
Rotten Apple -- 25 coins
Ad blocker interference detected!
Wikia is a free-to-use site that makes money from advertising. We have a modified experience for viewers using ad blockers

Wikia is not accessible if you've made further modifications. Remove the custom ad blocker rule(s) and the page will load as expected.