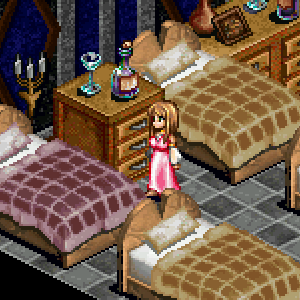 Courtship is a minor quest that male Aislings may participate in once they have reached their 11th insight. This fetch quest is easily performed and as a reward you will recieve 70,000 Exp
Procedure
Edit
In order to perform this quest, you will need, first, to obtain the Flower through the Mother's Love quest. Once you have the Flower, speak to Blanchefleur about Courtship and offer her the flower. You will be rewarded with experience points and her gratitude.
Quest Text
Edit
I long for the day I might leave these castle walls and run free. If only my dream were more than a shimmering illusion.
Still, I delight in the outside fragrance and sight whenever I can.
You have the court's blessing here
It is a curse. This castle is a prison. O, how I would run and leave, but I cannot escape this prison of mundanity in my mind.
It could be worse for a peasant
It could be for a peasant? The peasant hasn't the needs I do. They are content to their labor. I must have luxury, but I have luxury without true appreciation.
It's a tragedy, m'lady
It is. O, this world of grey stone and isolation. How many times have I walked these horrid halls. How I would love to smell fresh air again.
I know what you mean
Do you? I wish I had a token of Danaan's love of life. Something by which to smell her fragrance.
Why do you care for the outside cruelties?
It is pleasant to be alive, to adventure. I want to be rescued, to be held up by strong arms of the bold, courtly or not.
Offer her a flower
It is wonderful. Thank you, Aisling. I shall adore it more than my others. You are a gentlemen among your people, no doubt.
Ad blocker interference detected!
Wikia is a free-to-use site that makes money from advertising. We have a modified experience for viewers using ad blockers

Wikia is not accessible if you've made further modifications. Remove the custom ad blocker rule(s) and the page will load as expected.