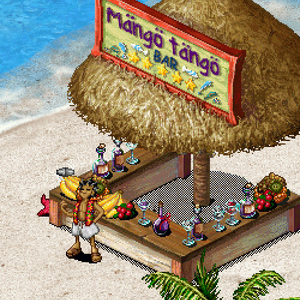 Paradise Beach is a tropical vacation destination off the Northeastern coast of Lynith Beach (North Lynith Beach 2 (21,4)). Consisting of a series of small, sandy islands, Paradise Beach is truly a luxurious place to spend the hottest days of summer. To access Paradise Beach, you will need to know how to swim. Riona, the Mileth innkeeper will be happy to teach you to swim if you don't already know how. 
Activities
Edit
There is plenty to do in Paradise Beach. You can kick back with one of Ruba's famous cocktails, or put yourself to work cleaning the beach of Dangerous Starfish by participating in the Safe Beach quest. For those looking for some recreational fun, you can pick up an Island Fishing Rod from Ruba and fish off the south coast. Furthermore, you would be remiss not to collect as many Golden Starfish as you can carry as they wash up on shore. Treasure Seekers will delight in working together to uncover buried treasure. Be sure to speak with Ruba to get your free Beach Attire!
Ad blocker interference detected!
Wikia is a free-to-use site that makes money from advertising. We have a modified experience for viewers using ad blockers

Wikia is not accessible if you've made further modifications. Remove the custom ad blocker rule(s) and the page will load as expected.